Outbound sales motion or sales development is the process of identifying prospects, connecting with potential customers, and qualifying them. Marketing and sales development representatives (SDRs) work on these steps, and then connect the potential customers with account executives. As opposed to an inbound motion where you seek to attract and engage prospects, you actively seek out prospects with outbound. If you were happy with your inbound, but of late seeing your organic leads plateauing, what do you do? Or if you're looking to move your customer base to the early majority, what do you do? You want to proactively reach out to more target accounts to keep the leads coming. This is where outbound sales strategy comes in. But how do you streamline your outbound motion for success?
Prerequisites for building an outbound sales strategy
Yes, you want to see your outbound campaign flying out ASAP. There's no way you're gonna let anything come in the way. Like any campaign, sporting or marketing, you need to focus on the goal with a clear perspective. To set your revenue team up for outbound sales success, you need to gain clarity around a few things. You need to find a positioning that makes your product stand out from the competition. It should also amp up the value of your differentiator. Determining your positioning will open up clues to determine your target customer acquisition cost and channels. Once that's sorted, you'll know where you need to work on to build the right set of capabilities and culture to successfully execute an outbound sales strategy. But how do you create that outbound sales strategy?
Create your own playbook for outbound sales success
Going from prospecting to qualification seems like a couple of easy steps but they are often marred by surprises. To successfully weather the storm in the market during your outbound journey, you must build a playbook of strategies. Then, you need to translate these outbound strategies into tactics for building a predictable pipeline generation process. You can draw guidelines around your B2B outbound sales strategy as follows.
Define your ICP
Building a model of your ideal customer and evaluating all prospects against it makes it easier for revenue teams to focus on selling to targeted accounts. With a well-defined ICP, you can better prioritize accounts for personalization, identify channel preferences, and time your messaging accurately.
Determine your buyer personas
B2B revenue teams need to identify the personas that will influence the buying decision around their solution. Having a clear idea of which personas to target within accounts makes outbound prospecting or qualification much easier. Even when you realize one or few of the target personas missing within an account, you can find relevant substitutes to include in your engagement list.
Aim at the right target group
As you start your outbound campaign, you must define how you want to go ahead with building your target contacts list. Do you want to pick up specific accounts and have your reps build their own lists? This will be labor-intensive and you'll eventually look at a data provider to source accurate, up-to-date demographic and firmographic data. Some vendors, even the ones leading in this category, might charge you exorbitantly or just not have data on your ICP. The sooner you find a steady and reliable source of relevant account and contact data, the better it will be for your outbound sales process.
Widen the net with one-to-many campaigns
Once you have created a list of target accounts and their contacts, you need to start engaging them with your brand and what you stand for. With the list of target personas in hand, you should craft the messaging to cater to the needs of these decision makers. Reaching out to different prospects at the same time means reduced personalization. However, by automating your outbound marketing activities and proactively engaging with them, you can make them feel like you're listening to each one of them.
Monitor intent and run intent-driven outreach
Sometimes, we think of success as a rush of luck. For marketers and SDRs in outbound sales motion, a surge in intent for relevant topics or keywords can be all the luck they need. Revenue teams need to constantly monitor the intent of target accounts around their solution and related terms. This can be first-party intent captured in your interactions with visitors and prospects across your digital channels (website, email and social) or through search-based third-party intent. Then, serve them relevant content and information around the topic they are researching with messaging that tugs them.
Monitor account-level engagement
All engagements with your contact list should be seen in terms of account engagements. You should place the account in the buying journey depending on how the different stakeholders are responding to your campaign and interacting with your content or digital assets. Monitoring account-level engagement helps you determine their buying stage.
Sharpen your game with account prioritization
With the above step you're able to map the buyer's journeys and place target accounts in the accurate buying stages. This helps you get a sense of how to help the stakeholders gain confidence around your solution in a personalized manner. Before you start reaching out at a one-on-one level, you want to identify the prospects that are high priority. For this, you need to weigh the accounts against the ICP, engagement and intent scales to arrive at account scores. And you can further segment them to sharpen your messaging. Then, you can start engaging with accounts at a personalized level.
Listen to Aseem Sinha, Global Demand Gen Leader at Algonomy talk about sharpening personalization tactics.
Better personalization, better deals
Your personalization strategy needs to evolve as you execute the process. You can start with best practices to reach out to prioritized accounts at a one-on-one level. Document the steps taken for optimizing each iteration. And improve on them to create your own playbook for future success. But can all these optimizations really be manually executed or can a tool automate it? We'll pick this up later.
Questions before pitch
Once you've made your brand and solution familiar in the minds of the prospects you should start creating avenues for deeper interactions. Set up meetings aimed at gauging the pain points of the accounts at a deeper level. You can also use this valuable time to understand the priorities, changes and goals of the organizations. This step is NOT about selling. It's about asking relevant questions to verify or gain previously unknown information.
To qualify or not to qualify
This is the step that will largely make or break your path to a predictable pipeline. Define crystal clear and objective criteria for qualifying an account into an opportunity. If your SDR isn't satisfied enough to progress a prospect to the opportunity stage, they must check again. This is also the step where you should rule out accounts that aren't yet ready to adopt your solution for their problem. The job of an SDR should not end when they qualify an account. There should be clearly defined processes around handing over an account to a closer. All the stages of an outbound sales process including the handover should be updated in the CRM.
Then again, it's all about the execution
Even when all the strategies and processes are defined to a T, everything can fail without meticulous execution. You could bring in the best CRM, the cutting-edge MAP or the sales intelligence platform everyone is chirping about. And yet, your revenue team might not move in sync, or you'll see your team struggling to visualize a complete buyer's journey. Determining the account scores and placing your target accounts in the buying journey. Then, identifying contacts matching the personas of your target accounts. And keeping track of all the engagement during prospecting and qualification. All these activities will generate relevant information and statistics to help you sharpen your outbound process. Using an intelligent system that continuously feeds off the data produced throughout the steps to generate smarter sales insights can boost your outbound sales strategy.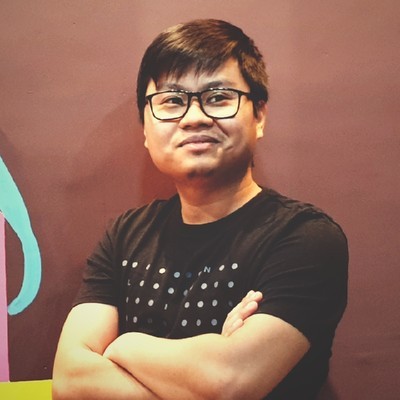 Bikash
, Marketing @ BambooBox